MYSTERY/THRILLER/SUSPENSE/KNOWLEDGE AND
SELF-AWARENESS
A Captivating story about a razor sharp young girl grown before her age. In I didn't see this coming from my family Author Niecy M's gentle, hiliarious and knowledgeable way of writing is unprecedent in it's own kind of way. She brings each character to life. The story is set around a family of twenty who all reside in the same household in the rural parts of Oklahoma. One of the main character's Sofay, is the center of attention in always being at the wrong place at the right time. She conveys life's lessons through her eyes from observing what she sees in a array of rawness without any filters. However, Sofay is exposed to any and everything from horrific life's lessons to soft delicate issues in relationships. Meanwhile, her family is in an uproar of challenging circumstances regarding the baby aunt Eesha innuendos in self discovery. But in any event, early on Sofay learned from the hands of her favorite aunts that revenge is a badge of honor in getting even but somehow along the way many of those plans backfired!
Excerpt-Chapter 4 pages 13 & 14
I was mortified because I did not know I had female parts that move. I was not familiar with sex at all then again maybe I was. My parents and I shared a bed. Whenever there were two pillows placed between us I pretty much knew what was about to take place. Hours prior to bed I would sometimes hear Daddy tell Momma, Geraldine get ready for Jimmy tonight causz we gonna wear you out! Momma always whispered to daddy saying J.W. be quiet before Sofay hears you. Funny though, the next morning some would have thought that I was the one having sex from my looks because of; my baggy sleepy eyes, wild hair and excessive yawning. Gramz's took one look at me and knew instantly her child and daughter in law were at it again. She often said to my father 'J.W. why don't yall make So-soo a palette on the floor she's getting to big to sleep with you two'. Dad would just shrug his shoulders. I personally, thought it should be a permanent palette from the way these two who fucked like rabbits. Besides; I learned from using my imagination, hearing, and not seeing my parents having sex. I heard sounds smelled odors and heard Momma silence screams of oh it is so good bababee. So in hearing Auntie Eisha's sex rundavoo with Mr. gossiping Johnson it was nothing new to me but quite alarming knowing she was acting grown with a grown married man, who had a family living four miles away from us.
(EXCERPT: Chapter 4 pages 13 & 14)
I DIDN'T SEE THIS COMING FROM MY FAMILY
AVAILABLE NOW!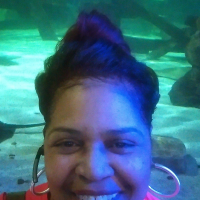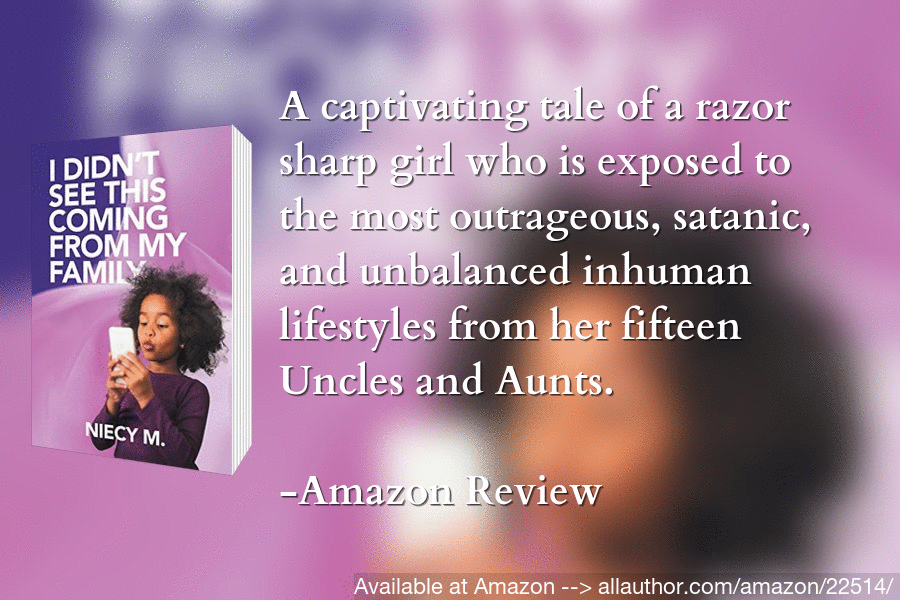 This is paragraph text. Double click here to edit and add your own text.
EXCERPT: Chapter 22 page 105 & 106
THIS IS THE PART THAT SOFAY, AUNTIE BECCA, THE KIDS AND HER GRANDMOTHER GRAMMY CONNECT MORE AT BREAKFAST. GRAMMY IS TRYING TO CONVINCE BECCA TO MOVE OUT HER RUN DOWN APARTMENT IN NEW YORK. HOWEVER, SHE GOT HER FRIEND MR. SMITH TO HELP INTERCEDE WITH HER PLANS IN EXECUTING THE MOVE.
Additionaly, Becca came into the living room looking more settled after taking a nice hot bath. Grammy looked out the window and said 'ok everybody let's go'. Auntie Becca seemed amused but curious she got her cane and made her way downstaris while both Grammy and I held both kids. Upon reaching downstairs and to my surprise Mr. Smith was waiting on us in his big pretty black car. He hopped out his car smiling opened the doors for us while pecking Grammy on the cheek and lips. He appeared to be a gentleman just like my daddy he was; very suave, talkative, and polite. He started asking questions about what I told Grammy pertaining to cousin Tommy and his girlfriend Sheila. Auntie Becca asked Mr. Smith what does what happened to me had to do with him. Grammy immediately jumped in and said 'because he's concerned Auntie and I wanted to hear from a man's point of view'. Intially Mr. Smith had a full day of activities for us. He took us to a restaurant to eat breakfast and it was exciting. The baby cried none stop drawing added attention from strangers while little Kimberley was having some type of shouting attack; where she out talked all of us causing Auntie to pinch her on the leg. Grammy can tolerate a lot but being embarrassed in public by a child is a no-no. She took Kimberley to the bathroom and probably spanked her though when they returned we didn't hear a peek from her. I could tell Mr. Smith was uncomfortable from the baby crying and Kimberley's loud outbursts because he stated sweating and nearly chocked his self to deaf from consistently pulling on his tie. He probably wished he hadn't brought us out in public but I bet the next time he wants to impress a family he'll think twice.
,Undoutedly, the adult conversation took a turn reflecting on Auntie Becca's new place to live. This time it was Mr. Smith doing the talking. He suggested that Tommie needs to be in new surroundings with his family and that Becca needed to finally be on her own comfortably. He said 'I'm only suggesting that you make a move because those hustlers won't give up until all three of those boys are dead'. He said 'he knew of a small place a friend of his rents out'. It's a little ways from Harlem predominately white not as racist and quiet. He said 'it's comfortable you are near lots of water and it's a family oriented environment'. Grammy asked where is it and Mr. Smith said 'Lake Placid'. Auntie shouted where you say lake who? Mr. Smith repeated his self he said 'we all will go up there once Tommie gets out the hospital to check it out'. Becca slowly said 'ok', Grammy was delighted she felt she was breaking through to Auntie I mean who really wants to live in an apartment full of roaches that you practically had to shoot to kill and then there are the giant rats that look like a size eight shoe.